Different sections of Great Wall In Beijing
Beijing is not only the political center of China, but it is also the most strategic city in the north. Many dynasties in Chinese history actively built walls in this area. Among many historical ruins of the Great Wall in Beijing, the wall built during the Ming Dynasty (1368 - 1644) is the most often seen and best preserved, running over 342 miles (550 kilometers) and containing about 827 city wall platforms, 71 passes and countless towers. The famous sections include the Badaling, Huanghuacheng, Mutianyu, Jiankou, Gubeikou, Jinshanling and Simatai.
If you want to experience the culture and enjoy the beauty of the Great Wall, meandering along the bricks of the Badaling is your first choice. It is famous for its deep-rooted culture, magnificent sights and complete military facilities - the essence of the Great Wall. You may find many pictures of it in magazines and guide books and printed on stamps. Being the must-see section of the Great Wall, it is sometimes flocked with visitors especially during holidays.
You may want to avoid the peak seasons or visit the Mutianyu instead. It is even more beautiful and has fewer tourists. If you are nostalgic for old times, the Simatai and Gubeikou sections should be on your itinerary. These two sections are well maintained in their original states. The strong, primitive walls enhance the beauty of the wilderness.
If you are energetic and daring, adventures on the Huanghuacheng and Jiankou sections await you. The steep peaks and broken bricks will challenge your courage and curiosity. Remember to bring complete a mountaineering outfit, food and water. Water is unavailable on the wild sections.
Different sections of Great Wall of China can satisfy many different interests. Come and explore your favorite one!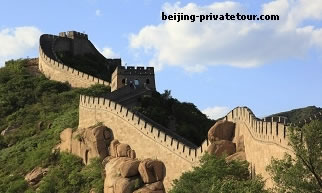 Customer Service Center
Travel booking center email:
Customer Reviews
Senthil kumar
I would like to extend my thanks to Mr Jack for his personalized service. The kind welcome, timing and courtesy extended by Mr Jack was way behind my expectations. I also lucky to have his assistance Ms Summer together with us for whole 2 days trip.
Howard M
Excellent tours at great prices. Our guide Jenny couldn't have been better. Spending time with her was the best possible way to see the sights in Beijing. At just slightly more than the cost of a large group tour the individual tour is really the only way to go in busy overcrowded Beijing!