The Longqing Gorge Natural Scenic Area is located 10 kilometers northeast of the county seat of Yanqing.Known as "Lesser Lijiang river outside the Great Wall" and "The Small Three gorges of China," it is one of Beijing's top 16 tourist sites.Longqing Gorge covers an area of 119 square kilometers.The main scenic spots include the largest dam in Northern China which is a concrete dam more than 70 meters high.Here tourists can see waterfalls in summer and icefalls in winter.You may plan one day Beijing Tour of LongQing Gorge.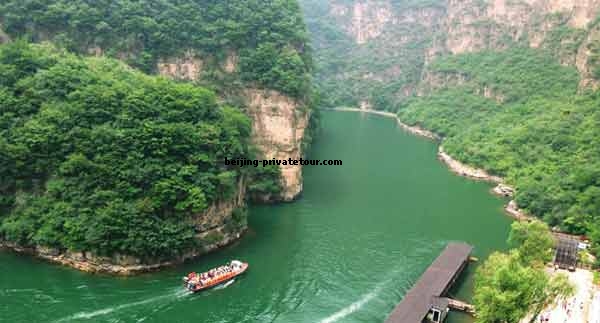 Transportation:
1.Take Bus 919 in front of Arrow,like Building every five minutes at Deshengmeng to Yanqing County and then change to Bus 875. The bus starts at 05:30 and ends at 18:00.
2.Take Railway S2 at Beijing Northern Station to Yanqing station and then change to Bus 875.
Admission Fee:
Ticket 1: CNY 40 per person. This is only for entry to the scenic spot.
Ticket 2: CNY 140 per person. This kind of ticket includes the most three important items: the elevator, the cruise, Flowers Cave.
Children under 1.2 meters (3.9 feet) in height get in on free.
Ticket prices for other items at the scenic spot:
Boating:CNY 100
Slide:CNY 20
Cableway:CNY 50
Bungee Jumping:CNY 150
Opeing Hours:
April 10 to November 15,and January 15 to the end of February: 09:00 ~ 17:00